Roof Replacement Services for Residents of Belleville, IL
Get the Roof That You Deserve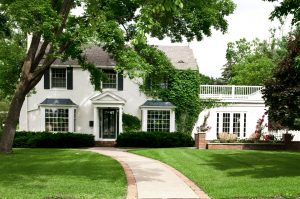 While your roof is just one of the many components of your home, it is perhaps the most important. As one of the main defenses against the sun and other elements, a roof has a big job to do. Yet, even if you properly maintain every part of your Belleville home, at some point in time or another, your roof will start to fail.
When that happens, it's best to replace the roof as soon as possible before it starts affecting other areas of your home, i.e., a roof leak that causes your paint to peel or ceiling to crumble. Talk to the roofing experts at iRestore Stl about your roof replacement options.
Why Invest in Roof Replacement
A new roof is a major investment, but it can offer big returns for the money spent. For one, replacing your roof can dramatically increase its overall resale value, which is very important in competitive markets. Even if you have no intention of selling your home any time soon, there are other benefits.
A new roof will improve your home's overall energy efficiency, reducing heating and cooling costs. Newer roofs tend to be a lot more energy-efficient when compared to their older counterparts. In fact, some have earned the coveted ENERGY STAR® rating for reflecting solar heat.
Plus, investing in a new roof will also improve overall curb appeal. As the roofs age, they begin to look old and faded. Getting a new roof allows you to refresh the look of your home exterior. You can even change up the roof style or color to better match your exterior and architecture.
Talk to iRestore Stl Today
Don't let a poorly performing roof allow damage to your home. Let iRestore Stl find the right roofing system for your Belleville home or business, and help you increase overall curb appeal and energy efficiency. Contact us now at  (618) 593-9203, or you can fill out our online form.

Your subscription is not active
Please visit the admin site to re-activate your subscription