Get Assistance With Your Insurance Claim
Roofing Company Specializing in Storm Damage Restoration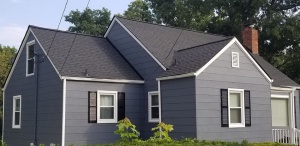 After a storm, you have two calls to make: one is to your local roofing company, and the other is to your insurance company. Both organizations need to work in conjunction to facilitate your claim. A professional roofer will come out and inspect your roof, document what's wrong with it (including taking photos) and then write up an estimate. You present all of this to your insurance company when you file the claim.
An adjuster will also visit the site and look at the damage. Because the adjuster's estimate may not match what your roofing contractor quoted, there is usually some negotiation. iRestore Stl can help you work through this sometimes-confusing process.
Why Choose Us?
After a major storm, you're bound to have people knocking on your door soliciting your business. While it might be tempting to just go with the first contractor you talk to, you could be setting yourself up for real heartache. Many scammers will show up offering deals that are too good to be true, and once they get your money, they might be gone – leaving you with a roofing system that may fail within a few years.
iRestore Stl is committed to being a contributing part of our community. We've helped hundreds of clients and have taken the time to ensure that they're satisfied with the finished product. We pride ourselves on our quality craftsmanship and on making sure that the storm damage restoration process is easy and straightforward.
Who Do We Work With?
State Farm
All State
Country Companies
Traveler's Insurance
USAA
Geico
John Hanckock
Liberty Mutual
Safeco
And all other major carriers of insurance
Just ask and our team will be happy to work with your insurance company.
Schedule an Estimate Today
iRestore Stl knows how stressful it can be to file an insurance claim when you're dealing with damage from a major storm. Don't go through the process alone. We'll assist you every step of the way – from the initial consultation to filing the paperwork to ensuring that the work is completed in a timely manner. Schedule an estimate with a trusted local roofing company by calling us at (618) 641-9533, or you can fill out our online form.