Expert Gutter Installation Services by Experienced Roofing Contractors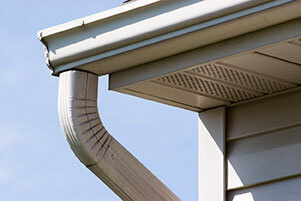 Do your gutters look like they're sagging? Is water running over the edges? Are you seeing ice dams backing up onto your roof? If you notice any of these problems, then your gutters will need to be inspected by a professional and potentially replaced.
The main purpose of gutters is to capture water coming off the roof and transport it a safe distance away from your property via the downspouts. If your gutters aren't doing this job well, they might be clogged or have holes which allow water to flow over the side of your home or business.
If you suspect that your gutters need some work, iRestore Stl is the company to call. We'll inspect your system and, if your gutters do need to be updated, guide you to the right gutter solution for your budget and your property.
The Importance of Gutters
As mentioned, gutters capture water run-off and move it safely away from siding, landscaping, walkways and anything that sits below the gutters. You might be wondering why this is important. In a nutshell, water is very destructive. It leads to damage to all parts of an exterior.
Overflowing gutters could result in the settling or cracking of the foundation, both very problematic and expensive to repair. If water is allowed to go anywhere it wants, your home or business could be dealing with washed-away sediment, shrubbery and more.
Contact Us to Learn More
Don't know if you need new gutters? iRestore Stl can inspect your gutters and determine if they need to be replaced or simply cleaned. Our knowledgeable roofing contractors can also help you select a gutter system that's right for you. Schedule an estimate by calling us at (618) 641-9533, or you can fill out our online form.