Storm Damage Roof Repair Services in Collinsville, IL
Your Home Will Be Better Than Before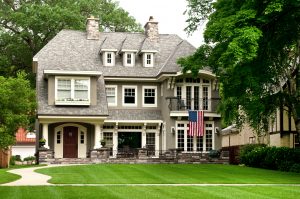 Imagine this: a major hailstorm has pounded the Collinsville area. You walk outside and notice shingles on the ground or maybe cracked shingles still attached. Perhaps you see dark spots on your roof, where granules on asphalt shingles have been knocked off because of the hail impact. You might be wondering what to do now.
The damage may not even look bad, but it could be serious in reality. What you're not seeing is the amount of water that could penetrate your underlayment or roofing structure (beneath the shingles) due to cracking and bruising of the shingles. You could be looking at a leaky roof in the very near future.
Don't put off storm damage roof repair. iRestore Stl services customers throughout the St. Louis Metro area, including Collinsville.
We'll Help With the Insurance Claims Process
iRestore Stl understands that sometimes the worst part of storm damage is having to deal with your insurance company. There is a lot of paperwork, and you might even have to fight for what you're entitled to if the insurance adjuster disagrees with the roofing company's repair estimate.
iRestore Stl has years of experience helping our customers navigate the claims process, and we work with all major insurance companies. We'll be your guide throughout the process. One of our qualified roofers will come to your property, document the damage (via writing and with photos) and provide you with a quote that you can take to your insurance company.
Talk to iRestore Stl Today
iRestore Stl is ready to put decades of experience in the insurance and construction business to work for you. This means that we fully understand the process and can negotiate with your insurance company to make sure that you don't lose out in the end. Schedule an appointment with us to learn more. Contact us at (618) 641-9533, or you can fill out our online form.

Your subscription is not active
Please visit the admin site to re-activate your subscription