Re-Roofing Services for Homes in Edwardsville, IL
An Experienced, Local Roofing Company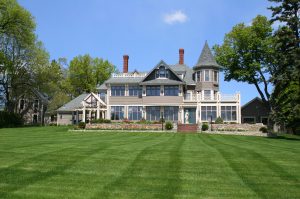 A new roof costs thousands of dollars. One way to save money on the expense is to invest in re-roofing. Re-roofing involves layering a new set of shingles over the original ones. This method saves on labor costs since the old shingles are not removed. It also typically takes less time and is a relatively easier job for your roofing company.
If you're interested in re-roofing your Edwardsville home, talk to iRestore Stl. We have the skills and knowledge to get the job done to your satisfaction and in a timely manner.
Roof Replacement or Re-Roofing?
You have a couple of choices for getting a new roof when yours has reached the end of its service life. Roof replacement is the most common method, where the entire roofing system is removed, and a new one is installed in its place.
Re-roofing can only be done in certain circumstances. If you already re-roofed your home previously, no reputable roofing company would add a third layer of shingles. This risks roof collapse due to the weight and sets you up for more headaches.
Re-roofing is a great way to save some money in the right circumstances, especially if there's damage to a wide area of your shingles but the roofing structure itself is still in good shape. Let iRestore Stl, your local Edwardsville roofing company, direct you to the right solution for your particular circumstance. We'll answer any questions that you have during our initial consultation.
Schedule an Appointment Today
Your roof may be a big investment, but it's worth the money. Get the service that you need to make sure that you're able to stay comfortable in your Edwardsville home for a very long time. Schedule an estimate with iRestore Stl as soon as possible by calling (618) 641-9533, or you can fill out our online form.

Your subscription is not active
Please visit the admin site to re-activate your subscription